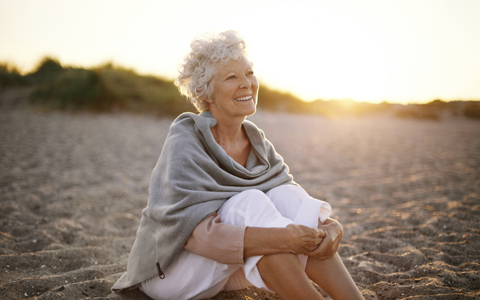 Denture implants, or permanent dentures, are overdentures that are fixed to the gums by dental implants. For patients who are missing the majority of their teeth, permanent dentures are an incredibly lifelike solution.
Do you have a loose-fitting denture that is making you uncomfortable? You can take your replacement smile to new heights with denture implants.
Dental implants are placed into the jaw, where they fuse with the bone itself. Attachments are placed in the underside of your custom-made denture to connect to the dental implants. The denture snaps onto the implants for ultimate security.
Benefits of Denture Implants in Waco
Some of the benefits of permanent dentures include:
Fresh confidence while you talk, laugh, and eat in public
Never worry about your replacement teeth slipping or falling out
More comfortable because they feel as secure as natural teeth
More natural-looking than traditional dentures because less plastic is needed for retention
No more slurred speech or clicking noises
No need to carry around denture adhesives
We love giving our patients the next-best-thing to natural teeth in Waco. We provide all of the latest options for denture implants, including All on 4 dental implants and mini dental implants.
About All on 4 Dental Implants
For Waco patients interested in replacing their dentures, Dr. Cutbirth can perform an All on 4 procedure. The process involves an oral surgeon placing 4 implants into a patient's jaw, then attaching a full set of teeth to each implant.
With All on 4 dental implants, the patient can benefit from having permanent dentures rather than putting up with dentures and the disadvantages that go along with them. To learn more about All on 4 dental implants, don't hesitate to give us a call in Waco.
About Mini Dental Implants
Alternatively, a mini dental implants system can be used to secure dentures and partials in place. In this procedure, small titanium implants are inserted into the jaw and act like teeth roots, securing dentures and partials and preventing them from moving.
With mini dental implants, the tip of the implant is sphere-shaped and holds a rubber O-ring, which fits over an implant ball when the denture is set in place and holds onto the denture similar to the way a snap would on a piece of clothing – except that this connection is much stronger, of course. The mini dental implants procedure can be used for a patient's existing dentures or a new set of dentures.
One advantage to "mini" implants is that they cost less than the All on 4 dental implants option.
Which form of denture implants is right for you? Call our office to schedule your consultation with Dr. Cutbirth in Waco today!
Related Content